It may help inform some of today's conversations among Central District neighbors to recall that, within the lifetime of many living here, racial discrimination in employment, housing, and public services was practiced openly and without apology. Four Seattle women who were among the founders of the local chapter of CORE, the Congress on Racial Equality, have written a history of a movement that was part of the struggle to confront that discrimination. Seattle in Black and White is that history, and this Saturday, October 13, two of the authors of that book, Bettylou Valentine and Maid Adams, will join the Community Council meeting for a conversation about their experiences and the challenges that continue to face us.
In the early 1960's CORE members and other fighters for civil rights were physically assaulted for efforts to force local supermarkets to end hiring practices that excluded blacks. Actions against Central Area supermarkets included locations at 14th and E. Pine, and 13th and E. Union. (Now, some would want to call that "Capitol Hill".) Despite fierce resistance, the civil rights movement inflicted financial losses on the stores until they agreed to hire African American workers.
Movement workers spearheaded a ballot measure in the City of Seattle to prohibit discrimination in the sale and rental of housing. Seattle voters, by a wide margin, rejected equal housing in a 1964 election. Illustrative of the argument against housing discrimination is this poster distributed by opponents: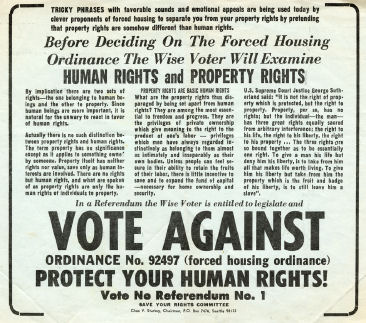 All are encouraged to attend and meet two remarkable women and learn more about the history of your neighborhood.
Other items on the agenda include representatives of King County who will provide an update on the next steps for the development of the Youth Services Center site which will include a new courthouse and office building, a new detention center, and new housing and commercial space on the existing parking lot — after the County facilities are constructed several years from now; an update on planning for the next Seattle Schools levy and how you can participate; and an opportunity for you to speak to other neighbors about your neighborhood.
The meeting is from 10:00 A.M. to noon, at the Firehouse location of Centerstone (formerly known as the Central Area Motivation Program, CAMP) at 722 18th Avenue.